Transport & Communications
Show me:
Transport (Scotland) Act 2001
Publisher:

TSO (The Stationery Office)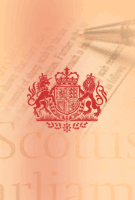 This Act sets out measures aimed to improve Scotland's system of public transport whilst relieving congestion and reducing air pollution. The policy objectives are to deliver a sustainable, effective and integrated transport system for Scotland. The aim is to empower local authorities to deliver local solutions to local problems and promote partnership working to meet Scotland's transport challenges.
The provisions of the Act cover:
Joint transport strategies

Bus services

Road user charging and the workplace parking levy

Concessionary fares

Bridges

Measures relating to school crossing patrols

Motorcycle parking and blue badges
Some specific measures include:
Free bus fares for the elderly and disabled

The introduction of 10 mph 'Home Zones' in residential areas aimed at making the streets safer

Ticketing schemes

Co-ordinating journeys aimed at making travel simpler

Local congestion charging for driving into urban centres with all revenue charging ringfenced for local transport
Find similar publications here: