Generic Risk Assessment 4.2 - Incidents Involving Transport Systems - Rail
(A4, Loose-Leaf)
Author:

Department for Communities and Local Government (DCLG)

Publisher:

TSO (The Stationery Office)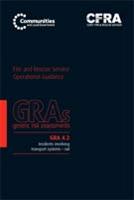 'Generic Risk Assessment 4.2 Incidents Involving Transport Systems - Rail' is part of a new series of Generic Risk Assessments (GRAs) that are the product of a ten year consultation period. The GRAs have been designed to safeguard Fire and Rescue Service (FRS) personnel and members of the public.
A rail system can be described as: 'Transport infrastructure and vehicles managed for the mass transport of people or goods, guided by one or more fixed rails.'
The complex and variable nature of rail systems is such that Fire and Rescue Services must ensure that local knowledge is updated and maintained to ensure operational plans remain current.
As with all GRAs, this assessment provides a starting point for FRS to conduct their own assessments and produce their own Safe Systems of Work within the context of local conditions and existing organisational arrangements.
This GRA is supplied as an A4, loose-leaf publication. A binder pack containing an introduction to the series, foreword by Sir Ken Knight, contents, and dividers is available to order separately. The binder is the ideal solution for storing these loose-leaf GRAs.
This GRA is also available to purchase as an A5 bound publication, making is both handy and portable.
Please see below for details of the binder pack and other Generic Risk Assessments in the series.
Key features:
Significant hazards and risks - including power systems, construction of rail vehicles and community impact

Key control measures - including training, command and control and protective equipment
Find similar publications here: