TSO Northern Ireland
Show me:
Report on Statements of Rate Levy and Collection 2009-10 and 2010-11
NIA 88/11-15, Eleventh Report of Session 2011-15 - Report Together with the Minutes of Proceedings and Minutes of Evidence
Author:

Northern Ireland Assembly - Public Accounts Committee

Publisher:

TSO (The Stationery Office)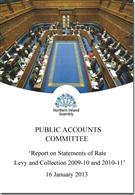 Add to Basket
Land and Property Services (LPS) is responsible for the billing and collection of rates on approximately 840,000 properties in Northern Ireland; 'Report on Statements of Rate Levy and Collection 2009-10 and 2010-11 (NIA 88/11-15)' identifies a significant backlog of valuations waiting to be completed by LPS. Although this has been reducing over the past number of years, at 31 March 2012 over 26,000 cases were outstanding.
LPS also administers the various reliefs and allowances associated with the rating system which amounted to over £190 million in 2011-12. Over £67 million of this relates to vacancy relief. Although LPS is working with a number of local councils across Northern Ireland to verify the accuracy of vacancy exemptions awarded, more needs to be done.
The Committee strongly believes that co-operation should soon be extended to all councils, with the level of fraud and error in the housing benefit administered by LPS being significantly higher than other public sector bodies administering benefits in Northern Ireland. Approximately £4.2 million of fraud and error is estimated to be included in the 2010-11 financial statements.
The level of rate debt has almost doubled in the last five years, rising from £88 million in 2006-07 to £160 million in 2011-12. Since 2008-09 £53 million of rate debt has been written off. Whilst the current recession has had an impact, LPS should explore all options to rigorously pursue these outstanding rates.
LPS faces a number of challenges in the next few years including welfare reform, non-domestic revaluation and the changes that the Review of Public Administration will make to Local Government that will all impact on the work of LPS.
The Committee make another of recommendations for the LPS to be well prepared and plan early to meet future challenges, particularly given the significant difficulties experienced when major reforms last occurred.