TSO Northern Ireland
Show me:
Inquiry into Unadopted Roads in Northern Ireland
NIA 44/11-15, Second Report of Session 2011-15, Report, Together with the Minutes of Proceedings and Minutes of Evidence
Author:

Northern Ireland Assembly - Regional Development Committee

Publisher:

TSO (The Stationery Office)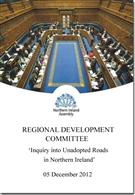 Add to Basket
'Inquiry into Unadopted Roads in Northern Ireland (NIA 44/11-15)' reports that it would take some £300 million to bring roads up to a standard sufficient to allow for adoption, and somewhere in the range of £41 million and £100 million to allow for adoption of sewerage and waste water schemes.
There are anything between 1,200 and 3,500 unadopted roads and some 1,200 sewerage schemes in the backlog. The Department for Regional Development (DRD) and Northern ireland Water (NIW) are unable to quantify the precise numbers which the Committee believes to be a significant weakness in itself.
It is extremely unlikely that these levels of investment can be acquired from central Government. However, with a coordinated effort by all sectors involved there could still be major improvements in the most critical cases.
There needs to be a concentrated effort to prevent additional numbers being added to the list and to significantly reduce the backlogs currently being experienced.
The Committee agrees that secondary legislation must offer protection to consumers to address the issues surrounding unfinished developments and roads. In addition, the Committee is concerned that there is no mandatory requirement in the Water and Sewerage Services (Order) 2006 for a developer to submit a drainage plan to Building Control or to even enter into an agreement with NIW in respect of a bond.
Further recommendations of the Committee include:
The bond limit and earlier release of bonded capital works where the work is incomplete within a prescribed period;

Prioritisation of unadopted roads and sewers where risks to public health and safety arise;

Enhancement of the property certificate to offer greater protection in the case of reselling of properties;

Establishing necessary codes of practice, protocols and guidelines for vendors and/ or residents in developments where roads or sewers remain unadopted; and

Establishment of a proactive forum to coordinate the addressing of the risks associated with actual and potential unfinished roads and sewers.
These recommendations are proactive and made in the hope that the collectively responsible approach will be received and echoed by all stakeholders in this process.
Find similar publications here: