Committees
Show me:
Interim report on the Committee's inquiry into child poverty in Northern Ireland: together with the minutes of proceedings of the Committee relating to the report, written submissions, memoranda and the minutes of evidence second report
Northern Ireland Assembly reports 07/07/08R Session 2007-2008
Sorry, this book is currently not available
Format:

Corporate Author:

Northern Ireland Northern Ireland Assembly Committee for the Office of the First Minister and Deputy First Minister

Author:

Danny Kennedy (chairman, Committee)

Publisher:

TSO (The Stationery Office)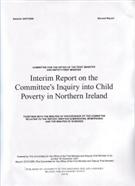 This interim report focuses on two key issues: the level of child poverty in Northern Ireland, including measurement and monitoring; and the response of the draft Programme for Government, Budget and Investment Strategy to the challenge of child poverty. The evidence considered by the Committee in developing this report has confirmed its concerns about the level, intensity and impact of child poverty. The Committee concludes that having more than 100,000 children living in poverty and 44,000 children living in severe poverty is unacceptable in the 21st century. The Executive's commitment, in the draft Programme for Government, Budget and Investment Strategy, to eliminate child poverty by 2020, including lifting 67,000 children out of poverty by 2010 and to work towards eliminating severe child poverty by 2012, are welcomed. But the Committee is concerned that there is insufficient information and a lack of specific timescales within the Programme on how these challenging targets are to be met. It recommends that the First Minister and deputy First Minister and the Executive examine the submissions contained in the report and strengthen the short to medium-term targets and actions on tackling child poverty within the Programme for Government, investment strategy, public service agreements and delivery plans. In 2008 the Committee will develop detailed recommendations on how child poverty in Northern Ireland can be tackled effectively.