Committees
Show me:
Inquiry into the approach of the Northern Ireland Assembly and the devolved government on European Union issues report and proceedings of the Committee relating to the report second report session 2001/2002
Northern Ireland Assembly reports Session 2001/2002
Format:

Corporate Author:

Great Britain Northern Ireland Assembly Committee of the Centre

Author:

Poots Edwin chairman

Publisher:

TSO (The Stationery Office)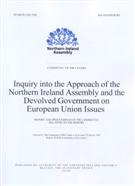 The Committee's report examines a number of issues regarding the effectiveness of relations between the devolved government institutions of Northern Ireland, including the Northern Ireland Assembly, with the European Union. These include: a mapping exercise of the links and information exchange between government bodies and EU institutions; the influence of these devolved bodies in european matters; a review of the current strategy of the Office of the First Minister and Deputy First Minister including a cost-effectiveness assessment; and a comparison of approaches used by other similar regions, notably in Scotland. The report contains a number of recommendations for improvements to promote a professional, effective and partnership approach to Europe.
Find similar publications here: