TSO Northern Ireland
Review into Bovine Tuberculosis
NIA 83/11-15, First Report of Session 2011/15 - Vol. 1: Report Together with the Minutes of Proceedings Relating to the Summary and Minutes of Evidence and Correspondence
Author:

Northern Ireland Assembly - Agriculture and Rural Development Committee

Publisher:

TSO (The Stationery Office)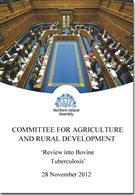 Add to Basket
Bovine Tuberculosis (TB) is a highly infectious disease that presents a problem for herd health. While in recent years there has been a very welcomed downward trend in infection rates, in the last 18 months there has been a sharp and as yet unexplained and unprecedented increase according to 'Review into Bovine Tuberculosis: Volume I (NIA 83/11-15)'.
There is serious concern amongst Committee Members, that unless this is tackled the disease could take a much firmer hold in Northern Ireland proving more difficult to eradicate in the longer term. Statutory responsibility for control of the disease lies with the Department of Agriculture and Rural Development (DARD) - who operate a programme based around compulsory testing and slaughter of infected animals, cattle surveillance, movement restrictions and disinfection.
While DARD maintains that its programme is one of eradication, some witnesses questioned whether the DARD strategy is more about containment and control than eradication. The disease has cost Northern Ireland around £317m over the 15 years up to March 2011. This is a substantial amount of money, the bulk of which is spent on the testing regime and on compensation payments for the slaughter of infected animals; but the TB programme enables an export trade in livestock and livestock products which is valued at around £1000m per year.
The Committee has set out 17 recommendations, under the following headings:
(i) Levels and Incidence Rates;

(i) Testing & Surveillance regime;

(i) Strategy and approach;

(i) Wildlife;

(i) Chronic and Repeat Breakdown Herds;

(i) Biosecurity;

(i) Wildlife Biosecurity;

(i) Wildlife vaccination; and

(i) Cattle Vaccine.