Managing Successful Programmes (MSP®) 5th Edition
Online Subscription
Author:

AXELOS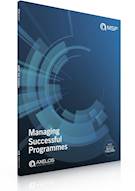 The Managing Successful Programmes (MSP) official online subscription offers essential guidance for the MSP Foundation and Practitioner certification and is the next step for PRINCE2 qualified practitioners and project managers.
MSP is a globally recognised framework for best practice programme management. Programmes are temporary structures used by organizations to lead investments in change.
MSP is the go-to certification and guidance for programme managers, business change managers and the natural next step for PRINCE2 project managers to develop their knowledge and skills to be able to positively respond to the challenges they face when managing programmes and larger, more strategic or multiple projects.
The MSP 5th edition as an online subscription is fully aligned with the Managing Successful Programmes Foundation and Practitioner exams and also serves as a reference guide for solving day-to-day problems. MSP can be used in conjunction with all the other best-practice products (such as PRINCE2 and MoP) and international or internal organizational standards.
Key features
The Managing Successful Programmes book, PDF, or online subscription:
Addresses the most common challenges that organizations encounter when leading investments in change outlined in the core guidance.

Aligns programmes and projects with organizational strategy

Covers key principles, governance themes and the processes needed to deliver change

Focuses on the outcomes of benefits, whilst mitigating risks and actively engaging stakeholders
MSP exam success in the palm of your hand
Learn, revise, test, prepare with the Official MSP Foundation App.
Alternative formats
Price quoted below is for single user access. To discuss multi-user access and the packages available, please contact our dedicated digital sales team on: email digital@tso.co.uk ; or telephone: +44 1603 696675.
Extent
N/A
Sub. No.
7003137
Size
N/A
Price

£80.00

Format
Online Subscription
Availability

Available to order