Building and Infrastructure
PSA Schedule Of Rates For Mechanical Services
Seventh Edition
Author:

Carillion

Publisher:

TSO (The Stationery Office)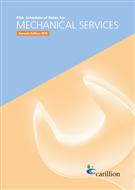 Add to Basket
This is the Seventh Edition of the PSA Schedule of Rates for Mechanical Services, containing over 18,000 priced items and aimed at Measured Term Contract procurement. It is the definitive guide for estimating, tendering and contracting work in the construction industry.
The PSA Schedule of Rates is an invaluable tool for benchmarking and ensuring that planned construction agreements are operated as cost effectively as possible.
The Seventh Edition rates are complemented with specifications of the product, definition of terms where appropriate, any relevant notes and the method of measurement; in this edition new British and European standards are also featured.
Key features
Approximately 18,000 rates for both materials and labour

British and European standards included

Can be used in Measured Term Contracts
Types of Mechanical Work covered:
Cold, hot & pressurised water

Natural gas
Fire hose reels

Fire hydrants

Gas/oil fired boilers

Alternative fuel boilers

Local heating units

Air conditioning units

Pipelines & pumps

Treated/deionised/distilled water

Fuel oil storage/distribution

Dry & wet risers

Foam fire fighting

Solar collectors

Heat pumps

Air filtration & ductlines

Cylinders/calorifiers

Water tanks/cisterns
Find similar publications here: