Generic Risk Assessment 4.5 - Working with Helicopters
(A4, Loose-Leaf)
Author:

Department for Communities and Local Government (DCLG)

Publisher:

TSO (The Stationery Office)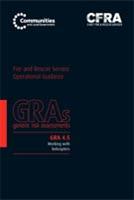 'Generic Risk Assessment (GRA) 4.5 - Working with Helicopters' is part of a new series of GRAs that are the product of a ten year consultation period. The GRAs have been designed to safeguard Fire and Rescue Service (FRS) personnel and members of the public.
GRA 4.5 examines the hazards, risks and control measures relating to incidents where the FRS are required to work at scenes where helicopters may be present.
PLEASE NOTE: Unmanned aerial vehicles such as drones fall outside the scope of this document.
The use of helicopters in emergency situations is becoming more common. Helicopters are often selected for use because of their ability to gain access to otherwise inaccessible areas and/or their capability for rapid transportation over long distances. Helicopters may also be deployed to the scene of FRS operations although not requested by the FRS, e.g. by the police or media. This may create additional risk to FRS personnel.
Depending on the nature and scale of the operational incident, a variety of hazards may by present. FRSs may therefore need to also consider the content of GRA 4.3 - Incidents involving transportation systems: Air.
As with all GRAs, this assessment provides a starting point for FRS to conduct their own assessments and produce their own Safe Systems of Work within the context of local conditions and existing organisational arrangements.
This GRA is supplied as an A4, loose-leaf publication. A binder pack containing an introduction to the series, foreword by Sir Ken Knight, contents, and dividers is available to order separately. The binder is the ideal solution for storing these loose-leaf GRAs.
This GRA is also available to purchase as an A5 bound publication, making it both handy and portable.
Please see below for details of the binder pack and other Generic Risk Assessments in the series.
Key features:
Significant hazards and risks associated with moving rotor blades, suspension loads, downwash and noise

Accidental activation of aircraft safety systems

Key control measures

Training
Find similar publications here: