TSO has been appointed as exclusive global publisher for TSIM
The Telehealth Service Implementation Model (TSIM) is a structured framework for the development, implementation, and long-term sustainability of telehealth services.
TSIM has evolved from the extensive telehealth experience and expertise of the Medical University of South Carolina (MUSC), one of only two HRSA-designated National Telehealth Centres of Excellence in the US.
Find out more at: www.tsimtelehealth.com

TSIM: The Telehealth Framework - A comprehensive guide to telehealth implementation and optimization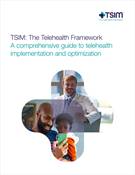 TSIM is intended for telehealth leaders and teams that are responsible for their organisation's digital transformation efforts. TSIM helps leaders simplify and deliver the complex process by providing a clear roadmap and structure.
Available formats