The Edinburgh Gazette
Author:

The Gazette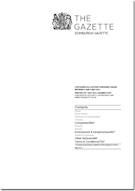 Published twice weekly by The Stationery Office, The Edinburgh Gazette is a similar publication to both the London and Belfast Gazettes, covering notices of a legal and public nature.
Information is given on notices of bankruptcies, appointment of liquidators or meetings of creditors. Local Authorities place notices in the Gazette, e.g. closing of roads and footpaths, acquisition of land for development etc., to coincide with the appearance of notices in the local press.
Electronic Gazette:
The Edinburgh Gazette is an annual subscription. It is available as a paper subscription and, also electronically.
You can receive The Gazette in PDF format each day or we can tailor a bespoke data feed to meet your needs. To discuss the receipt of The Gazette electronically please call 01603 696701 or email: data@thegazette.co.uk.
For more information about our data service please visit www.thegazette.co.uk (opens in new window).
Find similar publications here: