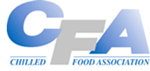 Chilled Food Association (CFA)
The Chilled Food Association (CFA) was formed to establish and continuously improve the promotion of best hygienic practice standards in the production of retailed chilled prepared food.
CFA represents many of the leading names in UK chilled prepared food production, predominantly supplying the retail trade.
Best Practice Guidelines for the Production of Chilled Foods
The CFA Guidelines are useful when working with local enforcement authorities to implement legal requirements at the production stage and may assist food business operators in complying with third party technical standards.
Available formats: