The Gazette is the UK's official public record, comprised of The London Gazette (published every week day), The Belfast Gazette (published on Fridays) and The Edinburgh Gazette (published on Tuesdays and Fridays). Issues are available by subscription or online, and are fully searchable via the website.
The Gazette has been recording key events in British history for over 350 years and is a valuable resource for historians and family researchers. From despatches detailing events in World War 1 to the birth of Princess Charlotte, The Gazette has recorded it all. All state honours, including civilian and diplomatic, are listed in The Gazette, along with those for gallantry or meritorious service. The Gazette is the official bearer of War Office and Ministry of Defence events, with a weekly supplement published on behalf of the forces every Tuesday.
Printed and PDF copies of London, Edinburgh and Belfast Gazettes are available for subscription:
Subscriptions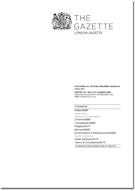 £1980.00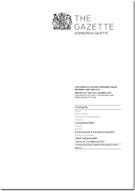 £492.50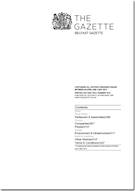 £243.50
---
Commemorative editions

Gazette issues are available to buy as a personalised edition, whether it's for your own achievement, or to mark the achievement of someone special. The Gazette's commemorative editions make a wonderful keepsake. Visit The Gazette shop to order your personalised edition.
---
Awards and honours
The Gazette is the official home to the Queen's Birthday and New Year honours, which are published in June and in the New Year. The Queen's honours lists recognise the achievements and service of people across the UK, from all walks of life.
The London Gazette: Supplement, New Year Honours List 2021

The New Year honours lists recognise the achievements and service of people across the UK, and are published in The Gazette, the official newspaper of the Crown.
---