Air Quality Guidelines for Europe – Second Edition
Author:

World Health Organization (WHO)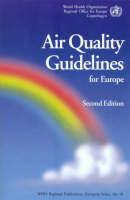 Since the first edition was published in 1987, new data and new developments in risk assessment methodology have taken place necessitating the updating and revision of the existing guidelines. The aim of the new guidelines is to provide a basis for protecting public health from the adverse effects of air pollutants that are known to be harmful to human health or well-being.
Key features:
provides a basis for setting standards or limit values for air pollutants;

provides the background information for international, national and local authorities to make risk assessments and risk management decisions; and

offers concise and comprehensive guidelines enabling informed decisions in regards to safety issues surrounding air pollutants.
Find similar publications here: