TSO Northern Ireland
Show me:
Report on the Criminal Justice Bill - Volume I
NIA 86/11-15, Third Report - Together with Minutes of Proceedings, Minutes of Evidence and Written Submissions
Author:

Northern Ireland Assembly - Committee for Justice

Publisher:

TSO (The Stationery Office)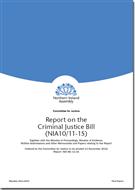 Add to Basket
'Report on the Criminal Justice Bill - Volume 1 (NIA 86/11-15)' sets out the Committee for Justice's consideration of the Criminal Justice Bill which proposes to change the law on sex offender notification provisions; introduce new offences aimed at preventing and combating human trafficking and protecting its victims; and establish a new legislative framework for fingerprints and DNA samples and profiles.
Some of the concerns expressed included the possibility that conviction of human trafficking offences would attract a sentence which did not reflect the gravity of the offences; and advantage should be made of the opportunity to put further measures into legislation, particularly in relation to protection, assistance and support for victims as well as training and investigative tools.
With regard to the retention of fingerprints and DNA profiles the Committee generally agreed that changes were needed in accordance with the European Convention on Human Rights (ECHR) judgment, which ruled that provisions in the Police and Criminal Evidence Act 1984 - permitting indefinite retention of DNA and fingerprints from un-convicted individuals, violated 'article 8' of the ECHR.
Some Committee members expressed strong reservations concerning the changes. The Committee also wished to see the offence of scandalising the court abolished.
Find similar publications here: