Fire and Rescue Authorities Operational Guidance Generic Risk Assessments 2.1 Rescues from Confined Spaces
Author:

Department for Communities and Local Government (DCLG)

Publisher:

TSO (The Stationery Office)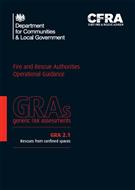 Generic Risk Assessment 2.1 examines the hazards, risks and control measures relating to fire and rescue personnel, the personnel of other agencies and members of the public.
This document aims to offer Fire and Rescue Authorities guidance on how to identify confined spaces, and the appropriate action to take at incidents to protect personnel who are mobilised to such incidents.
More information
For the purposes of this generic risk assessment a tunnel or underground structure is defined as a natural or manmade structure, where all or part is below ground level or covered, to where people can resort to for work, pleasure or transit. This includes underpasses, or any associated shafts, but excludes basements. The locations can range from a strategic transport tunnel such as the Channel Tunnel to a utilities tunnel that may allow for occasional access for maintenance purposes.
This GRA is supplied as a loose-leaf document. A binder pack containing an introduction to the series, foreword by Sir Ken Knight, contents and dividers is available to order separately. The binder is the ideal solution for storing the loose-leaf GRAs.
Save time with a Standing Order
Ensure you receive each of the GRA sections upon publication by setting up a standing order, available as A4 loose-leaf standing order (includes the binder pack). Set up a standing order today by email: subscriptions@tso.co.uk, fax: +44 (0)870 600 5533 or by writing to TSO, Standing Orders Dept, PO Box 29, Norwich, NR3 1GN.
The Generic Risk Assessments (GRAs)
Visit the Generic Risk Assessments (GRAs) page for the full list of publications and formats available.
Find similar publications here: