Building Regulations
Show me:
Low or Zero Carbon Energy Sources: Strategic Guide
Author:

TSO

Publisher:

TSO (The Stationery Office)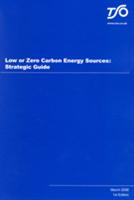 The desire to exploit LZC energy sources is driving the rapid development of many technologies and these are increasingly being installed in buildings, e.g. small-scale and micro-CHP units, photovoltaic panels, and building-mounted wind generators. 'Low or Zero Carbon Energy Sources: Strategic Guide' provides sufficient information to enable the reader to decide if a particular LZC energy source is appropriate for the building under consideration and to estimate the potential for carbon dioxide emissions reduction.
Key features:
an introduction to LZC energy sources, focusing on building-integrated/building-attached applications;

a set of calculation methods to enable the carbon dioxide emissions reduction potential of individual LZC energy sources to be calculated in domestic and non-domestic building applications;

outline guidance on key issues for certain LZC energy sources where this is lacking in current literature; and

references to recommended performance standards and guidance information.
Find similar publications here: