Traffic Signs Manual Chapter 8
Traffic Safety Measures and Signs for Road Works and Temporary Situations. Part 1 - Design
Author:

Department for Transport (DfT)

Publisher:

TSO (The Stationery Office)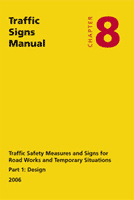 In the operation and maintenance of highway networks, it is necessary from time to time to put in place temporary traffic management measures to facilitate safe road works or temporary closures or incident management, whilst keeping the traffic flowing as freely as possible.
The Design Document provides guidance for those responsible for the design of temporary traffic management arrangements which should be implemented to facilitate maintenance activities or in response to temporary situations. It contains advice relating to traffic safety measures, and the identity and location of the traffic signs needed to guide road users safely past obstructions in temporary situations.
Key features:
Structured to facilitate and reflect the design process, from broad brief to signing provision

Deals with the design of temporary traffic management arrangements on single carriageway roads and dual carriageway roads separately.

The design guidance is illustrated by the inclusion of sample plans.
This title supersedes 'Traffic Signs Manual Chapter 8: Traffic Safety Measures and Signs for Road Works and Temporary Situations', ISBN 0115509372.
Find similar publications here: