Management of Risk (M_o_R®): Guidance for Practitioners 3rd Edition
Paperback
Language:

English

Format:

paperback

Author:

AXELOS

Publisher:

TSO (The Stationery Office)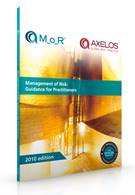 Management of Risk (M_o_R®) is part of the Global Best Practice suite of publications, which helps organizations and individuals manage their projects, programmes and services consistently and effectively.
Taking and managing risk is essential for organizations to achieve their business objectives. M_o_R provides a route map for embedding cost-effective, best-practice risk management that can help organizations improve service delivery and achieve real value for money. It will be useful for those who manage risks, anyone with responsibility for reviewing and improving risk management, and for integrating risk management activities across an organization.
The guide brings together risk management principles, an approach, a process with a set of interrelated steps. It supports decision-making and advises how these principles, approach and process should be embedded, reviewed and applied within different risk contexts.
Key benefits
Describes how risk management applies to strategic, project or programme, and operational objectives

Improves competitive advantage by actively managing potential threats and opportunities

Provides a step-by-step framework for managing risks

Demonstrates how successful risk management can contribute to fewer unwelcome surprises, more efficient use of resources, better service delivery and lower capital costs

Includes real-life examples of how to apply the M_o_R principles, approach and process

Identifies detailed sources of advice for risk management techniques and specialisms
This publication is the manual from which the syllabus and the examinations are set and supports the M_o_R qualification.
Alternative formats
Find similar publications here: