Department of Health HBN's & HTM's
Show me:
Health Technical Memorandum 05-03: Operational Provisions - Part E: Escape Lifts in Healthcare Premises
Firecode - Fire Safety in the NHS
Author:

Department of Health

Publisher:

TSO (The Stationery Office)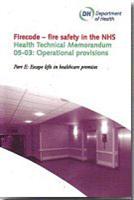 This Firecode document contains technical details for the design and use of escape lifts in healthcare buildings, as well as guidance on managerial and organisational issues to be considered in order to ensure the safe use of escape lifts in case of fire as part of an integrated fire safety strategy. It should be read in conjunction with other documents intended to give guidance on the necessary means of escape and maintenance systems applicable to the premises.
It assumes that the structural fire protection and means of escape of the hospital and the provision of escape lifts, is in accordance with Firecode, the Building Regulations, relevant British Standards and other applicable guidance. It incorporates issues related to the use of lifts as part of the evacuation strategy for disabled people in accordance with 'BS 5588-8:1999 Fire Precautions in the Design, Construction and Use of Buildings: Code of Practice for Means of Escape for Disabled People' (ISBN 0580282627, available below).
Find similar publications here: