Department of Health HBN's & HTM's
Show me:
Medical gas pipeline systems: Part B Operational management
Health technical memorandum HTM 02-01
Format:

Corporate Author:

Department of Health Estates and Facilities Division

Publisher:

TSO (The Stationery Office)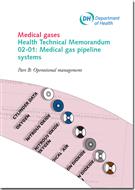 A medical gas pipeline system (MGPS) is installed to provide a safe, convenient and cost-effective system for the provision of medical gases to clinical and nursing staff at the point-of-use. It reduces the problems associated with the use of gas cylinders, such as safety, storage and noise. This health technical memoranda is divided into two parts; part A (ISBN 0113227426) focuses on issues involved in the design and installation, validation and verification (testing and commissioning) of an MGPS. This document covers operational management issues, including: operational policy and procedures, and the permit-to-work system; training and communication; cylinder management; general safety; and maintenance.
Find similar publications here: