Joint Select Committees
Show me:
Draft Mental Health Bill twenty-fifth report of session 2001-02 report, together with proceedings of the Committee and appendices
House of Lords papers 2001-02 181 House of Commons papers 2001-02 1294
Sorry, this book is currently not available
Format:

Corporate Author:

Great Britain Parliament Joint Committee on Human Rights

Author:

Corston Jean chairman

Publisher:

TSO (The Stationery Office)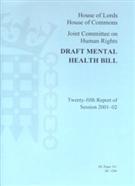 The Draft Mental Health Bill (Cm. 5538-I, II and III; ISBN 0101553838) seeks to introduce a new legal framework for the compulsory care and treatment of people suffering from mental disorders. It makes provision for a three-stage process from the initial use of compulsory powers through formal assessment and treatment to independent authorisation of compulsory treatment by a new Mental Health Tribunal. If passed, the provisions of the Bill will replace most of the Mental Health Act 1983. This joint Committee report considers the human rights implications of the draft Bill, based upon the belief that mental health patients are a particularly vulnerable group. Overall, the Committee finds that the draft Bill would make many major improvements to the safeguards for the human rights of patients in the mental health care system, whether they are being treated as compulsory or voluntary patients. However, it highlights a number of aspects of the Bill for which human rights concerns still exist, including the broadness of the proposed definition of 'mental disorder'; and the lack of an independent specialist Commission to oversee the operation of the mental healthcare system.