Joint Select Committees
Show me:
The case for a Human Rights Commission interim report twenty-second report of session 2001-02 report, together with proceedings of the Committee, minutes of evidence and appendices
House of Lords papers 2001-02 160 House of Commons papers 2001-02 1142
Sorry, this book is currently not available
Format:

Corporate Author:

Great Britain Parliament Joint Committee on Human Rights

Author:

Corston Jean chairman

Publisher:

TSO (The Stationery Office)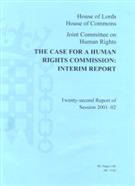 The Committee has launched an inquiry to examine the proposal to establish a Human Rights Commission for the UK, and to assess whether there are unmet human rights needs in the UK which the proposed Commission would address. This proposal follows on from the enactment of the Human Rights Act 1998 which came into effect in October 2000. This interim report seeks to place in the public domain a range of oral and written evidence received so far, in the hope of stimulating further debate on the matter. This includes oral contributions from the Lord Chancellor; Barbara Roche, Minister of State; Mary Robinson, UN High Commissioner for Human Rights; and the Chairs of equality rights commissions. It also includes memoranda from civil rights organisations, academics, the legal profession and police bodies. The Committee intends to publish a consultation document setting out some preliminary conclusions later in the year.