Joint Select Committees
Show me:
The case for a Human Rights Commission sixth report of session 2002-03 Vol. 1 Report and proceedings of the Committee
House of Lords papers 2002-03 67-I House of Commons papers 2002-03 489-I
Sorry, this book is currently not available
Format:

Corporate Author:

Great Britain Parliament Joint Committee on Human Rights

Author:

Corston Jean chairman

Publisher:

TSO (The Stationery Office)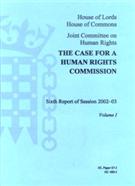 The Committee concludes that human rights issues are widely misunderstood, but have the potential to be agents of positive change in our society. A culture of respect for human rights needs to be built, in order to promote a set of fundamental ethical standards for the way the state treats its citizens and for all our social relations. Their report finds that the case for establishing an independent Human Rights Commission is compelling, and that the Commission must have a clear mission, sufficient powers and resources to achieve its objectives, and must be accountable to the people through Parliament.