Joint Select Committees
Show me:
Criminal Justice Bill second report of session 2002-03 report, together with proceedings of the Committee
House of Lords papers 2002-03 40 House of Commons papers 2002-03 374
Sorry, this book is currently not available
Format:

Corporate Author:

Great Britain Parliament Joint Committee on Human Rights

Author:

Corston Jean chairman

Publisher:

TSO (The Stationery Office)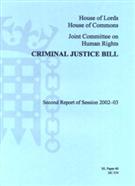 The Criminal Justice Bill (HCB 8, ISBN 0215701801) contains a wide-ranging set of proposals for reform of criminal procedure, evidence and sentencing. The Committee's report finds that most of its provisions, including those relating to the limitation of trial by jury, are likely to be compatible with human rights legislation, either because they do not interfere with rights or because the interference is likely to be justifiable. However, concerns are noted about the adequacy of safeguards regarding: property rights of people taken into custody; admitting evidence of bad character; the use of hearsay evidence; the disclosure of pre-sentence reports to young offenders; and the exchange of information between bodies in order to assess the dangerousness of offenders.