House of Commons Papers
Show me:
Progress On Public Bodies Reform: Cabinet Office
HC 1048, Report by the Comptroller and Auditor General, Session 2013-14
Author:

National Audit Office (NAO)

Publisher:

TSO (The Stationery Office)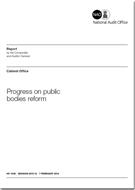 'Progress On Public Bodies Reform: Cabinet Office (HC 1048)' examines the progress of the Government's Public Bodies Reform Programme, designed to reduce the number and cost of public bodies and to make them more accountable to elected representatives.
The report finds that the programme is making good progress, and that there have been substantial reductions in the administrative spending of Non-Departmental Public Bodies (NDPBs).
The reduction by the Cabinet Office and departments in the number of public bodies represents a major simplification of the public bodies landscape. Under the Reform Programme, Cabinet Office intends to reduce the number of bodies by 306, through abolition and merger.
By 31 December 2013, 93 % of the planned abolitions and mergers had been completed, reducing the number of public bodies in the Programme by 283 to 621.
However, there has not been enough emphasis on managing the benefits of the Reform Programme, and the ongoing programme for reviewing the remaining public bodies needs to be strengthened. Even after all planned reforms have been completed, the public bodies landscape will still be complex.
More needs to be done to increase the transparency of remaining public bodies.