The UK Border Agency and Border Force: Progress in Cutting Costs and Improving Performance: Home Office
HC 467, Report by the Comptroller and Auditor General, Session 2012-13
Author:

National Audit Office (NAO)

Publisher:

TSO (The Stationery Office)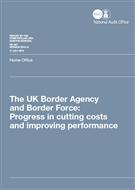 Add to Basket
By automating processes and becoming more flexible, the UK Border Agency aims to cut costs by at least £350 million between 2011 and 2015, partly through reducing the number of staff by 4,500 full time equivalents; 'The UK Border Agency and Border Force: Progress in Cutting Costs and Improving Performance (HC 467)' reports that the Agency has not based its target operating model on clear performance priorities and there is a lack of detail.
The current business unit structure does not offer the Agency the flexibility it needs to respond to unpredictable levels of applications for immigration and asylum. The Agency is reliant on the successful implementation of the £385 million Immigration Case Work IT system and wider changes to business processes within Case-Working, as well as better working practices in the Border Force, to deliver further savings and improvements in service delivery.
Immigration Case Work is a year behind schedule and exceeded its original 2011-12 budget by £28 million. Despite progress being slower on Immigration Case Work than expected, the Agency reduced its staff levels more quickly than planned, with 2,100 full-time equivalent staff leaving during 2011-12. This resulted in a need to hire new staff to deal with spikes in demand. Achieving these significant changes require strong leadership and good communication, which today's report finds have not been evident enough to date.
There have been well-documented problems within the Border Force. The Agency has recognised its deficiencies and is preparing a new transformation programme for launch in the autumn. The aim is to reduce management layers and bring root and branch change to operations and performance by 2015.
Find similar publications here: