Financial Management Report 2011: Ministry of Justice
HC 1591, Report by the Comptroller and Auditor General, Session 2010-12
Author:

National Audit Office (NAO)

Publisher:

TSO (The Stationery Office)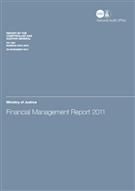 Add to Basket
The 'Financial Management Report 2011 (HC 1591)' concludes that management within the Ministry of Justice (MOJ) has improved considerably since the National Audit Office last examined this subject in 2010 (see below). The Ministry now has effective governance structures in place and in 2010-11 managed its money far more effectively, allowing it to redeploy funds to where they were most needed.
Improvements identified include:
financial management is now central to the operation of the organisation, improving the quality and consistency of financial planning and forecasting;

financial information for decision making is now more relevant and useful, with the Ministry's planning work allowing it to bring together a wide range of business information to estimate the financial implications of workload; and

improved oversight of its arm's-length bodies.
The Ministry still has gaps in financial reporting skills and some of its underlying systems do need further improvement. It was one of only two government departments that failed to produce their financial accounts by the 2011 summer Parliamentary recess, mainly due to the accounts for the National Offender Management Service being produced late.
The Legal Services Commission, an arm's-length body of the MOJ, had the audit opinion on its 2010-11 accounts qualified owing to the potential level of error, put at an estimated £50 million. There has also been little change in how the Ministry monitors and collects assets due under confiscation orders, with the amount of outstanding debt having increased by almost £400 million in 2010-11.
Find similar publications here: