Shared Services in the Research Councils: Department for Business, Innovation and Skills
HC 1459, Report by the Comptroller and Auditor General, Session 2010-12
Author:

National Audit Office (NAO)

Publisher:

TSO (The Stationery Office)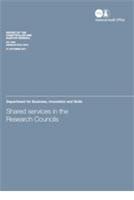 The implementation of a project to create a centre to streamline back-office functions - such as finance, HR and procurement - for the seven research councils has so far not been good value for money, the report 'Shared Services in the Research Councils (HC 1459)' finds.
When finally operational 15 months late, the Centre was delivering services across the five functions planned but some services, particularly finance, are not yet where they need to be. By the end of March 2011 the project was £51 million over budget. Available evidence indicates that to date the project has underachieved against total expected savings by at least £73 million.
The original business case, which led to the decision to opt for the shared service centre, was flawed. The projected savings to be made from better procurement were uncertain and a proper financial analysis should have prompted a re-evaluation of the available options.
The reasons for the overrun and delay included complex governance arrangements, slow decision-making and the lack of a clear vision for the project from the outset.
The contract with Fujitsu, the supplier of the Centre's ICT systems, was terminated after wasting £13 million because some elements of the system then had to be rebuilt in-house. When the project did start to go off-course, the Department for Business Innovation and Skills, as sponsor Department, did not intervene.
A single shared service platform has the potential, if managed effectively, to offer broader benefits through streamlined processes. The report concludes that there is significant scope for further savings.
Find similar publications here: