Command Papers
Show me:
National Statistics annual report 2004/05
Cm. 6632
Sorry, this book is currently not available
Format:

Corporate Author:

Great Britain Office for National Statistics

Author:

Cook Len ONS Director and National Statistician

Publisher:

TSO (The Stationery Office)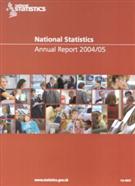 This is the fifth National Statistics annual report which highlights the variety of work carried out by statisticians and other analysts in the Government Statistical Service (GSS) and the Northern Ireland Statistics and Research Agency (NISRA) during the year 2004-05. It considers the progress made in implementing the statistical plans set out in the National Statistics Work Programme for 2003/04 to 2005/06, across three main areas of work: major developments in cross-cutting departmental or theme boundaries; work carried out under the aegis of the 12 National Statistics Theme Groups; and quality improvements carried out in the context of the National Statistics Quality Review Programme.
Find similar publications here: