Portfolio, Programme, Project Management (P3M3®) Enhanced Self-Assessment
Author:

AXELOS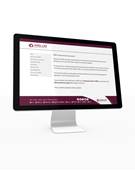 This is a subscription-based assessment you can use to determine your organization's maturity level, but you can also record your organizations' assessment for future comparison, allowing you to demonstrate improvements over time (base lining). This will allow your organization to compare their performance with other organizations (benchmarking). A report showing typical practices for organizations at five maturity levels will also be generated, to help the organization recognize them.
Subscribers will be able to track their progress and, in time, benchmark it.
P3M3 aligns portfolio, programme, project, value and risk management. AXELOS has developed a range of methods that provide an integrated, consistent and flexible approach to aid these objectives:
Management of Portfolios (MoP®)

Managing Successful Programmes (MSP®)

PRINCE2® (Projects IN Controlled Environments)

Management of Value (MoV®)

Management of Risk (M_o_R®)

Portfolio, Programme and Project Offices (P3O®).
A visual breakdown of how the P3M3 Self Assessment Tool works:
Price quoted below is for single user access. To discuss multi-user access and the packages available, please contact our dedicated digital sales team on: email digital@tso.co.uk ; or telephone: +44 1603 696675.
Extent
N/A
Sub. No.
7003213
Size
N/A
Price

£300.00

Format
Online Subscription
Availability

Available to order
Find similar publications here: