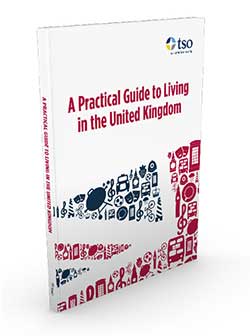 A Practical Guide to
Living in the United Kingdom
Author: Jenny Wales
Publisher: TSO (The Stationery Office)
This 'Practical Guide to Living in the UK' supports new citizens with the information needed to adjust to everyday life in the UK. It is packed full of information about living and working in the UK and will give readers guidance on how to get by in daily life.

...Read more
More information
Detailed information on the following topics is included:
UK Laws and the legal system - identifies ways in which the law affects people, both before and after arriving in the UK
The world of work - details the information needed when trying to find work, advice on being employed and setting up a business
Housing - helps with setting up home and the day to day running of a household in the UK
Schools and education - gives information to help new residents understand the way education works in the UK and ways to discover what is available in the local area
Healthcare in the UK - provides information on what health care is available as a resident of the UK, where to go to seek medical advice and how to register with local GP practices and surgeries
Out and about - explains how the transport system works and aspects of the UK beyond the local area
Please note: This book does not contain the learning materials for the test and should be read in conjunction with a standard text version of 'Life in the United Kingdom: A Guide for New Residents, 3rd Edition' handbook, which is available to buy in a range of formats.
Show less
Recommendations...