Environmental Management
Show me:
Environmental Management Systems. Guidelines For Incorporating Ecodesign
BS EN ISO 14006:2011
Author:

British Standards Institute (BSI)

Publisher:

CED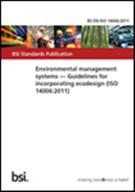 Add to Basket
BS EN ISO 14006 is the Standard that provides guidelines to help organizations establish, document, implement, maintain and continually improve their management of ecodesign as part of an environmental management system (EMS).
This Standard is intended to be used by those organizations that have implemented an EMS in accordance with ISO 14001, but can help in integrating ecodesign in other management systems. The guidelines are applicable to any organization regardless of its size or activity.
BS EN ISO 14006 applies to those product-related environmental aspects that the organization can control and those it can influence. It does not establish by itself specific environmental performance criteria, and is not intended for certification purposes.
International concern over damage to the environment (e.g. in the form of climate change, depletion of resources, and air, water and soil environmental pollution) is encouraging organizations to pay more attention to managing the environmental impacts of their activities and products and to focus on continuously improving their environmental performance. In order to reduce detrimental effects on the environment, more and more organizations are recognizing the need to include environmental performance in the design of their products.
Find similar publications here: