Customer Services
Customer Services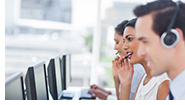 Achieving customer satisfaction is vital for businesses and wider service organizations. Good customer service can lead to customer retention, loyalty and competitive edge.
BSI has developed a suite of products to help organizations meet the expectations of their customers by the introduction of good practice and processes, systems, policies and behaviours that help achieve customer satisfaction.
These standards and books have been designed to assist customer service professionals, business managers and consumer champions working in:
Retail (online or high street)
Utilities
Business-to-business services
Public services providers
Call centres.
The standards are designed to help organizations increase customer satisfaction as part of business improvement strategy but also to meet with their wider obligations.
Key Publications: