Industrial Relations, Health & Safety
Show me:
Collective Bargaining and Collective Action: Labour Agency and Governance in the 21st Century?
Onati International Series in Law and Society
Publisher:

Hart Publishing - Bloomsbury Publishing PLC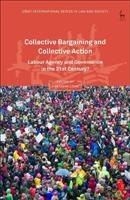 Add to Basket
This book offers a unique contribution that examines major recent changes in conflict, negotiation and regulation within the labour relations systems and related governance institutions of advanced societies. The broad scope of analysis includes social welfare institutions, new forms of protest including judicialisation, transnational structures and collective bargaining itself. As the distinguished group of participating authors shows, the accumulation of numerous crucial changes in the interactions of unions, employers, political parties, courts, protestors, regulators and other key actors makes it imperative to reframe the study of collective bargaining and related forms of governance. The shifting dynamics include the growing relevance of multi-level interactions involving transnational entities, states and regions; the increasing tendency of workers and unions to turn to the courts as part of their overall strategy; new forms of solidarity among workers; and the emergence of new populist and nationalist actors. At the same time, sectors of the workforce that feel under-represented by existing institutions have contributed to new types of protest and `agency'. Building on classical debates, the book offers new theoretical and practical approaches that insert the study of collective bargaining into the analysis of governance, solidarity, conflict and regulation, as they are broadly construed.
Find similar publications here:
Markets & Industry
Business and Management

Show all Subjects & Categories