Tourism Industry
Show me:
Air Transport - A Tourism Perspective
Contemporary Issues in Air Transport
Publisher:

Elsevier Science Publishing Co Inc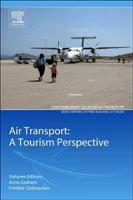 Add to Basket
Air Transport: A Tourism Perspective provides rigorous insights into the current complexities, synergies and conflicts within air transportation and tourism, presenting a balanced, comprehensive, contemporary, and global analysis that thoroughly examines the links between theory and practice. The book offers readers a multi-sector, global perspective on the practical implications of the link between air transport and tourism. By using a novel approach, it systematically explores the successive stages of a tourist's trip-investigating reasons for flying, the airport experience, airline industry structures, competition and regulation, and air transportation and destination interrelationships. In addition, the book explores current and salient debates on such issues as the influence of traveling to visit friends and family, the role of charters versus low cost carriers, public subsidies to support airport development, and much more.
Find similar publications here:
Cartography, Mapping & Travel
Geography and Environment

Show all Subjects & Categories