Energy Management Systems. Requirements With Guidance For Use
BS EN ISO 50001:2011
Author:

British Standards Institute (BSI)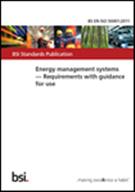 Add to Basket
BS EN ISO 50001:2011 stipulates the requirements for an energy management system. Designed to make the most from energy technology, this standard helps management to reduce their energy consumption, while boosting their overall energy conservation.
This includes reduced energy costs and carbon emissions, and a more secure supply of energy. BS EN ISO 50001 helps organizations to take on a systematic approach to continually improve their energy performance and establish a credible, certified reputation.
BS EN ISO 50001:2011 helps to improve management techniques by providing a comprehensive scope of requirements to run an efficient energy management system. These include energy policies, planning, legal requirements, as well as energy reviews, baseline and performance indicators.
The standard also explains how to demonstrate competence, operational control and best practice procurement of energy services, products and equipment.
Find similar publications here: