Pharmacopoeia of the People's Republic of China 2010
English Edition
Author:

Pharmacopoeia Commission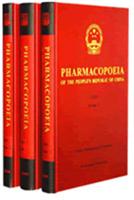 This ninth Edition of the 'Pharmacopoeia of the People's Republic of China 2010', is an official and authoritative compendium of drugs. It covers most traditional Chinese medicines and most western medicines and preparations, giving descriptions and information on the standards of purity, testing, dosage, precautions, storage, and the strength of each drug.
This 2010 Edition provides the statutory requirements for foreign pharmaceutical companies producing medicines for the Chinese market.
Published in three volumes:
Volume I - Contains monographs of Chinese crude drugs and includes traditional Chinese medicine, in alphabetical order of pharmaceutical standards

Volume II - Deals with chemicals, antibiotics, biochemical drugs and pharmaceutical excipients radioactive standards, in alphabetical order of generic API and monographs of chemical drugs

Volume III - Contains biological products and monographs.
Key features:
A three volume printed set

Contains up to 4,567 monographs with 1,386 new admissions

439 articles relating to prepared slices of Chinese crude drugs.
Please note as this publication is a translation, there are a limited number of copies available.
Find similar publications here: