The Official DVSA Theory Test Kit for Car Drivers
DVD-ROM pack
Author:

Driver and Vehicle Standards Agency (DVSA)

Publisher:

TSO (The Stationery Office)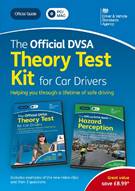 Please note: We're aware that some Apple Mac users running MacOS Catalina (version 10.15) and MacOS Big Sur (version 11) are experiencing problems using this product. We advise you to use the Safe Driving for Life website (opens new window) instead for the best user experience.
Prepare to pass your theory test first time with the number-one best-selling theory test DVD-ROM kit- the ONLY official expert revision guide.
Compatible with both PC and Mac, it includes The Official DVSA Theory Test for Car Drivers DVD-ROM and The Official DVSA Guide to Hazard Perception DVD-ROM.
Save £8.99 compared to buying the products separately.
Five reasons to buy it:
Exclusive visual media practice clip - one of the first places to get the official visual media practice clips

Practice questions - includes hundreds of official DVSA theory test revision questions, so you can see how much you've learnt

Learn from the experts - DVSA, the people who set the tests. This DVD-ROM has over 100 high-quality, interactive video clips designed to help you pass

Study section - everything you need to know about hazard perception, including looking for clues and scanning, plus detailed information on all 14 theory test topics

Over 100 practice hazard perception clips - Practice all the official hazard perception revision clips, including over 20 CGI clips.
And there's more
Easy to understand - written in an easy-to-remember way that links the theory to your practical driving experience

Helpful extras - includes a digital version of The Official Highway Code and a voiceover option