IT change management is all about the people
January 2020
By Daniel Card
To make technology work for you, you need to enable your people
Change is difficult without the right people
Over the years, I have visited many companies in my role as an IT consultant. I love the variety of technology, but there is something I find in many organizations that makes me feel like it is Groundhog Day.
When I first started in this industry I fell in love with technology and, as my career progressed, I started to design automated solutions more and more. One day, I was doing an analysis on a business and my Dad said to me: 'Dan, this is all great. Your designs look sensible and it is all logical but, honestly, they will not work without the right people.'
Read more...
It took me several business-improving projects to understand the point he was trying to make: without the right attitude, enablement, and skills, it is genuinely hard to make change work. Even with this, change is difficult and if someone says it is not, check their water bottle for snake oil…
I see organizations proudly show statements on their walls and their websites displaying their commitment to people enablement. But, when I conduct IT audits, I talk to the IT team. Not only to two people to tick a few boxes—I talk to everyone I can.
Systematically, when I meet teams, I find a common reality in about over 90% of organizations: people are not being provided with enough support by management to carry out their current roles or develop their future potential.
Your teams are the enablers of your IT transformation
When I conduct interviews and workshops, what I look for is an understanding of organizational challenges, a 'boots on the ground' view of the barriers to success and, essentially, what makes people tick. What is the Development team like? What got them into development? Where do they see themselves going? Does the organization support them?
The list goes on and on, but you get my point. How often do you think I get responses like this?
'The organization aligns my personal/professional development with the organizational goals and has a training plan to enable me to deliver value'
'My manager makes sure that we have meaningful one-to-one time regularly and encourages me to go to conferences and industry events (they even go with me!)'
'I am empowered to conduct learning and development activities'
Well…hardly ever. And this is a huge problem. To sort it, I support people by providing mentorship and guidance to help them increase not only their value, but the value they provide to their employers. And I do it by talking to them, working out plans with them and helping them keep moving.
The people in a team are the glue that enables technology—buying a Blinky box will not solve your organizational challenges, the same way as relying on hero mentalities will not enable you to scale and spread knowledge. Yet it is often something that is overlooked or excluded.
When people are motivated, passionate and empowered, they do amazing things. They not only improve efficiency and add value but, also, they spread their passion with them.
Great results come from a great culture
My conclusion is that, if your people are not motivated, supported and encouraged, your organization and customers will suffer. If you do not ensure your people are skilled, they will stay in your organization drawing down resources and they will be unhappy–that is a lose/lose scenario. If you want exceptional outcomes, you need a first-class culture and a great team spirit. To get that, you need passionate people backed up by adequate support.
Do not be fooled–checking in a few times a week or having a yearly review process is not enough. Your people are your business, your customers buy your people and without them, you are not winning!
About the author
Daniel Card is the founder and owner of Xservus limited, a specialist consultancy firm that provides management and cybersecurity consulting services. Daniel has more than 19 years of experience in the technology domain, from service desk to enterprise architecture and IT leadership.
Read more about the author...
He uses his skillset and experience to enable customers to maximize their technology value, reduce their business risk and help them to succeed. A firm believer in enablement through education, he is the creator of the cybersecurity awareness game 'PwnDefend'. He regularly blogs and enjoys being active on social media.
Related titles
The Effective Change Manager: Change Management Body of Knowledge
IT Change Management: A Practitioner's Guide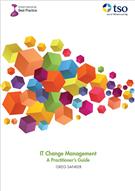 Bridging the gap between best practice training and the realities faced in real world implementation.
Available formats: