Medicine
International Statistical Classification of Diseases and Related Health Problems, 10th revision (ICD-10) 2016
Author:

World Health Organization (WHO)

Publisher:

WHO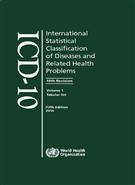 Add to Basket
ICD-10, 10th edition, 2016 revision includes more than 100 edits, updates and clarifications from 1997 to the end of 2015.
Volume 1 includes the introduction of:
New WHO dengue classification, distinction between seasonal and zoonotic or pandemic influenza

An update to the terminology of haematological tumours in line with the recent developments in the field

Added detail for atrial fibrillation and flutter

The coding scheme of haemorrhoids has been updated and moved to the digestive system chapter

Further changes include a new code to document female genital mutilation, a range of emergency codes, and additional details for coding of antibiotic resistance.
Volume 2 includes instructions on mortality coding have been fully rewritten, for more clarity, without changing the rules. The appendices include:
New death certificate, a form for the recommended additional information for perinatal deaths

A flyer on how to fill in the medical certificate of cause of death.
Volume 3 has been updated to match changes in Volume 1.
More information
ICD is used for health information purposes in public health, as well as primary, secondary and tertiary care settings. In particular it is used to classify diseases, accidents, reasons for encounter and other health problems recorded on many types of health and vital records, including death certificates. In addition to facilitating the storage and retrieval of diagnostic information for clinical, epidemiological and quality purposes, the resulting records form the basis for compiling national mortality and morbidity statistics by WHO Member States. ICD has been translated into more than 40 languages and as serves a language-independent framework for classification of diseases.
The ICD is the international standard diagnostic classification for all general epidemiological purposes. It has many health management purposes and clinical uses, including :
Analysis of the general health situation of population groups

Monitoring of the incidence and prevalence of diseases

Other health problems with respect to variables such as the characteristics and circumstances of the individuals affected.
This title supersedes ICD-10 published in January 2012, ISBN 9789241548342.

Find similar publications here: